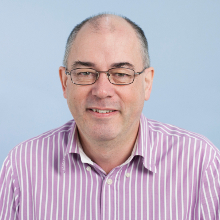 Paul
Torgerson
, Prof.
Phone: +41 44 635 90 41
Room number: TBA 10.11
Professor Torgerson is a British trained veterinarian and graduated from Cambridge University in 1986. Subsequently after a period in clinical practice, first as a large animal intern at Glasgow Veterinary School followed by agricultural veterinary practice, Professor Torgerson returned to Cambridge to complete a PhD in Parasitology. He was subsequently appointed as a lecturer at University College Dublin where he developed an interest in parasite epidemiology. In 2002 he was invited to lead a group on parasite epidemiology at the Institute of Parasitology in Zurich and remained there until 2008. Following a brief spell at Ross University in The Caribbean, Professor Torgerson was appointed to the newly created chair of veterinary epidemiology in Zurich from late 2009. Professor Torgerson also holds the Diploma of the European College of Veterinary Public Health with a speciality in population medicine and the Diploma of the European Veterinary Parasitology College.
Researcher profiles and publications